Frieza
Apr 7, 2011 23:29:38 GMT -6
Post by frieza on Apr 7, 2011 23:29:38 GMT -6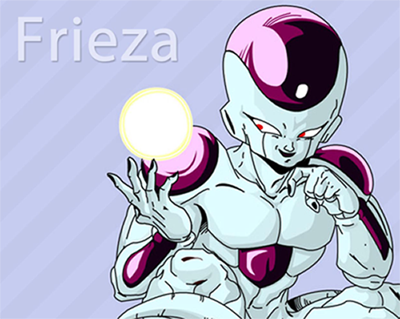 Full Name-
Frieza
Nick names-
None
Race-
Alien
Alignment-
Evil
Age-
Undeterminable
Gender-
Male
Sexuality:
Homosexual but he's not fancy about it
Job-
Galactic Conquerer
Appearance-
Height:
4' 6" in base form
Hair:
None
Eyes:
Black
Skin:
White
Body type:
Muscular/petite
Over all description:
Frieza is a Changeling prince of incredibly short stature, smaller even than Vegeta, standing at approximately 4'7'. His skin is whitish-grey in color with purple orb/gem decoration on his head, shoulders and the center of his chest. His feet are tri-toed and he has a long prehensile tail.
In his first form, Frieza has short horns that extend from the natural armor shell protecting his head. The bulk of his arms and legs are covered in what looks like segemented pink skin, much like the Namekian skin patches. This skin patterning also extends from the outer corner of his eyes to his chin. His lips are a dark reddish, purple and his eyes are black.
Frieza is well muscled. His wrists, ankles and chest are protected by a natural bone armor as well as his chest being covered by standard issue World Trade Organization armor, complete with long pointed spaulders. The armor is purple in color and covers half of his torso.
His second form is nearly identical to the first though he grows a good 3 ft taller and his horns get longer as well as his tail.
His third form Frieza's third form is again more brutish, with an extremely elongated skull (like an Alien). His facial features contort and change, with his nose melding into his mouth to form a crude beak. His original horns recede and are now white in color, erupting in pairs along the length of his head. He now carries a slight hunch
His final form is radically different from his previous transformations, Frieza instead regresses, becoming shorter and less bulky. His previous form shatters, causing his horns and spikes to disappear with his physique becoming entirely streamlined. The lines of color and stripes present on Frieza before completely disappear; his skin is now a pure, solid white with purple sections on his head, shoulders, forearms, chest and shins. All injuries taken in other forms are healed. This is the form that allows him to release his full potential. In this form he is able to use anywhere from 1% to 100% of his full power.
Personality-
Likes-
Dry humor, torture, power, and cats
Dislikes-
Saiyans, weaklings, his soldiers and birds
Over all-
From the time he was born, it is presumed that Frieza was told that he was the most powerful being in the universe. This makes Frieza arrogant much in the same way that Vegeta is arrogant. He makes a great point to call himself the most powerful being of his time.
At times, Frieza displays great paranoia, an example being when he had Planet Vegeta destroyed for fear of a Super Saiyan rising to defeat him, though he later contradicts himself saying that he never believed that one existed. He can be witty on occasion, but largely at the expense of other people.
Mostly, Freiza displays a great deal of intelligence and calm, preferring to develop a intellectual solution to his problems as opposed to an emotional one. He is often referred to as very cold and uncaring of anyone but himself. Frieza exhibits a large amount of indifference to those he considers weaker than himself, which he believes to include everyone.
Frieza is accustomed to being in charge and will kill insubordinate crew members who do not provide the results he wants in the time he expects. He rarely acts on his own, instead preferring to make his minions do the work for him, while he reaps the benefits. This is not because he is weak, but because his quiet anger is much more terrifying and deadly than when he yells (which is not often).
Frieza is most noted for his sadism. He enjoys killing his enemies slowly and with much savoring of their pain. He exudes a massive amount of arrogance and shows this by removing a limb from the fight, simply by refusing to utilize it. He shows much enjoyment of fighting someone who can challenge him, but he can be tricked fairly easily.
Other:Family-
Cooler [Brother], King Cold [Father]
Mate-
None
Crush-
None
Offspring-
None
Attacks(Beams, not physical)-
[/li][li] Death Ball
[/li][li]Death Beam
[/li][li]Eye Beam
Transformations(if any)
Forms 1 - 4 and 100%
Weakness:
Frieza is prideful/arrogant. Frieza's pride allowed him to fight Goku, thinking that he would easily defeat him, but spent far too much time toying with him. He underestimates opponants. Frieza tends to think that he is the most powerful being in the universe and therefore perceives no one as a threat. Frieza is able to be baited. He took Vegeta's bait to transform and when it turned out that the Z fighters were able to combat him handily still, he was forced to change rapidly and this exhausted a large amount of his energy. He is sadistic and takes his time killing his enemies, preferring to watch them squirm which leaves him vulnerable to attack. He cannot accept defeat and is unwilling to be defeated under any circumstances. He suffers from sociopathy and does not feel emotion, though later he does express extreme anger and fear.
Strengths:
Intelligence - Frieza grew up on a planet where he was taught that the size of a man's brain is just as important as the size of his fists.
Leadership - Despite his ruthless tactics, many people were perfectly content to serve under Frieza as long as they produced the results he required.
Powerful - Through years of training and conquest, Frieza has grown exponentially as a fighter.
History(at least 3 good paragraphs):
[/size]
Frieza was born into Changeling planet royalty to King Cold. He has a older brother named Cooler. As he grew, Freiza was trained as a warrior as well as taught to be intellectual and unfeeling. Quickly, Frieza grew into a ruthless leader and began the World Trade Organization.
Under the guise of the WTO, Frieza began to conquer the universe, one planet at a time, creating military forces with the inhabitants of the planets he devoured. Of these, the Saiyans were his greatest find and quickly he sent them to do his bidding, pleased with their inclination to fight and destroy.
Frieza expressed much interest in the young Saiyan Prince Vegeta and took him under his wing for training and instruction. Shortly after sending the prince for his first assignment, Frieza destroyed the planet Vegeta and all the Saiyans on it, for fear of a "Super Saiyan" rising up to destroy him.
Many years later he over heard Raditz, Vegeta and Nappa discussing the dragonballs and went after them himself. While gathering the dragonballs on Namek, he was confronted and defeated by Goku.
Rp Sample
[/u]
Frieza sat in his ship, watching the stars float by as it sailed through the heavens. This tournament on Earth intrigued him, though he had already sent Vegeta to destroy it along with Tarble to make Vegeta's life a little more hectic at the very least. He swished his drink around the glass thoughtfully before taking a sip.
The problem was Frankincense. She was an endless irritable pain in his side...but she provided excellent results despite her complete lack of focus. She failed him miserably but while he could still squeak some use out of her he might as well keep her alive. However if some sort of accident occurred, well who could have foreseen that. He smiled and drained his glass.
He inspected it carefully, studying its beauty, before throwing it hard into a wall, causing it to shatter. He laughed at the distruction of the beautiful crystal. He waved at a subordinate.
"Clean it up and get out."
Tell us about yourself:

Name you wish to go by on here: Frankie

How can we contact you? PM is fine: AIM: grenadier 990

How long have you been rp'ing?
[/u] 7 years